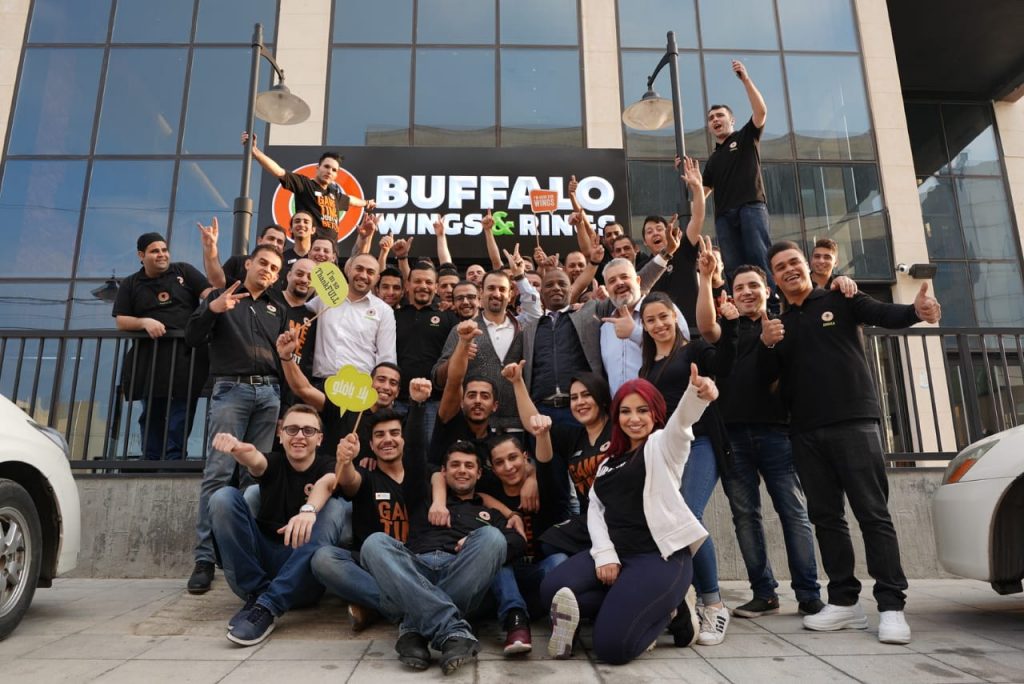 Amman, Jordan (February 2019) – Buffalo Wings & Rings, the much-loved American casual dining restaurant celebrated the opening of its newest branch. Located in the bustling area of 7th Circle, the new branch is set to satisfy the cravings of fans bringing fresh flavors at a great value closer to its customers.
The restaurant features a new design direction that is both modern and elevated with concrete finishings that contrast with warm brick walls. Over thirty 65 inch screens ensure sports fans enjoy an immersive spectator experience from every angle. The interior dining hall features cozy seating options for intimate family-friendly gatherings as well as interactive zones for larger groups. An external terrace will allow guests to enjoy the cool breezes during warmer months.
Aside from serving delicious chicken wings and signatures sauces ranging in heat from the mildest to the most daring 1 million sauce, the menu promises to satisfy every craving. A wide selection of dishes from fresh salads, handcrafted burgers filled with gourmet ingredients and tex-mex options bursting with rich flavors inspired by the American south is available from noon till late. The dining experience is not complete without a refreshing signature drink or an alcoholic beverage from the extensive drinks menu featuring top shelf international brands as well as local varieties including ice cold draft beer.
"We introduced Buffalo Wings & Rings to Jordan nine years ago and have managed to become a leading sports-themed restaurant that caters to food lovers of all ages.'' Commented Haytham David, President of Buffalo Wings & Rings International. ''Our commitment and passion have been the key reasons behind our success as they translate into every little detail. This new opening marks a new milestone in our journey to expand the brand in the region and beyond including upcoming openings in Saudi Arabia, Bahrain and Lebanon.''
Jordan is a key market for the Buffalo Wings & Rings chain in the region and is a key contributor to the brand's overall success with 23 stores in seven countries and counting. This newest 7th Circle branch will complement the existing five restaurants and Express mall locations in Jordan, which include Aqaba, Dead Sea, Jabal Amman, Abdoun and Khalda. This falls under the expansion strategy of the company, which plans on opening more restaurants both locally in Jordan and in the region.
Since 1984, Buffalo Wings & Rings served its very first wing in Cincinnati, Ohio. And now there are 56 branches in USA, and 24 branches all over the world, sustaining a club-level sports restaurant experience where everyone is a VIP, worthy of the ultimate sports dining experience.